We want to assure you were, here at Advantage Inc., we are practicing safety when shipping your machine.
We are taking this covid19 seriously. We have implemented various protocols and safety measures
to keep our products and customers safe.

Our machines can ship as quickly as 2 to 3 business days


Blue Sky Embroidery Machines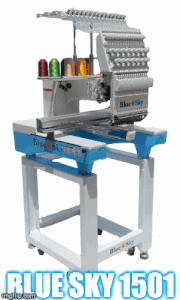 We started Advantage Incorporated in 2002.
We are a family owned company based in Florida.
We're proud to announce that we have created and will be selling our own Blue Sky embroidery machine!
We cannot wait to tell you more.
We'll give you a bit more info if you click up top on the Blue Sky link.
Can you feel our excitement??

Advantage Inc is now an Official dealer for Fil-Tec products.
Glide thread, Mighty Hoops, Fast Frames, Durkee Hoops, Hoop Tech, Organ Needles,
Stabiliglider, Magna Glide Bobbins, professional bobbin winder, and so much more!

941-493-1343
Isn't it time you buy your products from someone who cares about you and your business?